EXPLORE NISSAN COMMERCIAL

Built to Work
NISSAN COMMERCIAL VEHICLES
from ARLINGTON NISSAN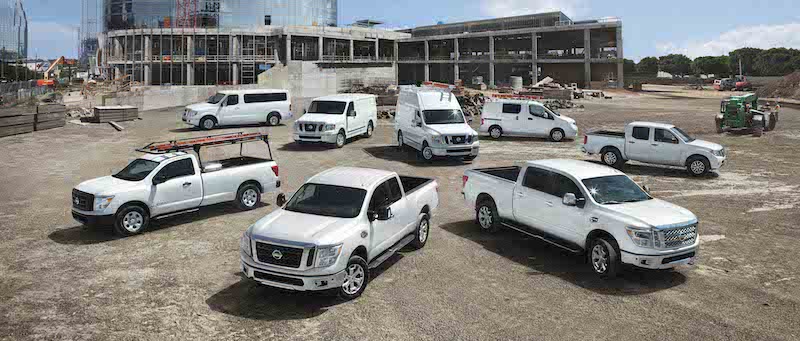 ARLINGTON NISSAN - Workforce
TOUGHER THAN ANY JOB 
Up to 375-hp and 387 lb-ft of torque
Up to 324 cu. ft. of cargo space
Standard 261-hp, 4.0-L V6 engine
12-passenger seating capacity
12 rear passenger heating and cooling vents
324 seating configurations
NISSAN NV200
25 mpg combined fuel economy
20 interior integrated reinforced cargo-mounting points
122.7 cu. ft. cargo space
Up to 9,660 lbs. maximum towing capacity
Endurance® 5.6-liter V8 gas engine
Standard 390-hp and 394 lb-ft of torque
Available Cummins® 5.0-liter V8 Diesel engine
Up to 12,710 LBS. maximum towing capacity
Up to 390-hp and 555 lb-ft of torque
Up to 6,690 lbs. maximum towing capacity 
Up to 261-hp  and 281 lb-ft of torque   
19/23 City/Highway mpg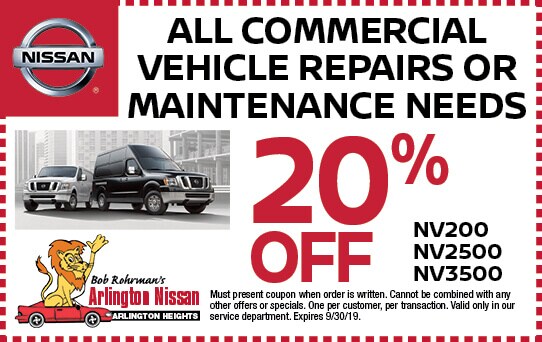 5 years/100,000 miles
bumper-to-bumper warranty
Workdays are unpredictable but our warranty is concrete-America's Best Commercial Van and Truck Warranty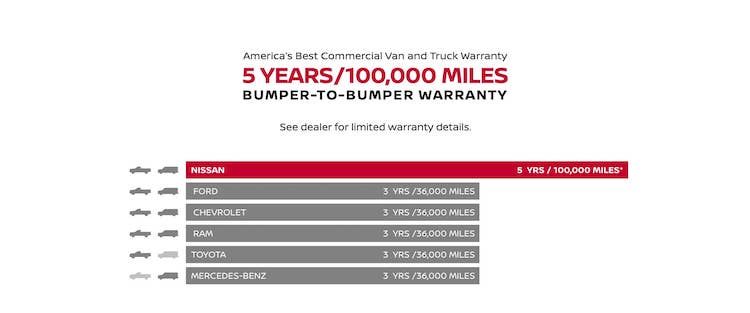 NEXT DAY PRIORITY SERVICE GUARANTEE 
When you're off the road, you're off the job. That's why you're always next in line for service at any Nissan Business Certified Dealer.
ROADSIDE ASSISTANCE 
3 YEARS | 36K MILES  
Fast, reliable, and comes standard with all our vehicles. We're ready to go anywhere - 24/7, 365 days a year. 
Claim based on years/mileage (whichever occurs first) covered under the New Vehicle Limited Warranty basic coverage. Ward's in-market Large Pickup Segmentation and Small Pickup Segmentation v. 2019 TITAN and TITAN XD and Wards Light Vehicle Segmentation: 2019 Nissan NV Cargo, NV Passenger v. in-market Large Van Class; 2019 Nissan NV200® v. in-market Small Van Class. Commercial Vans compared only. Nissan's New Vehicle Limited Warranty basic coverage excludes tires, corrosion coverage and federal and California emission performance and defect coverage. Other terms and conditions apply. See dealer for complete warranty details. NV200® Taxi is covered under a separate limited warranty with a different level of coverage.
All data presented here is from the Nissan Commercial Vehicles website and was correct at time of publishing.  It is subject to change without notice.    Please contact ARLINGTON NISSAN at your convenience with any questions you have.
Models