Buy or Lease the

New Nissan Ariya Electric SUV

in Arlington Heights, IL
Take a Giant Step into the Future of Driving with a 2023 Nissan Ariya
Learn All About the All-New Nissan Ariya at Arlington Nissan
As we make plans to deal with the impact of climate change, many automakers are getting the jump by investing heavily in hybrid and electric vehicles. All you have to do is make your daily commute into Palatine, IL to know that hybrid and electric cars are becoming more prominent in today's driving landscape. You might have even noticed that your place of employment has put up new charging stations for electric vehicles. Nissan is never a brand to hold back on the innovation. For the 2023 model year, Nissan is set to unleash the all-new Nissan Ariya. This electric crossover SUV is set to change the way many people view the future of driving. Arlington Nissan, located at 1275 West Dundee Road in Arlington Heights, IL, is the place to learn all about this exciting new Nissan vehicle.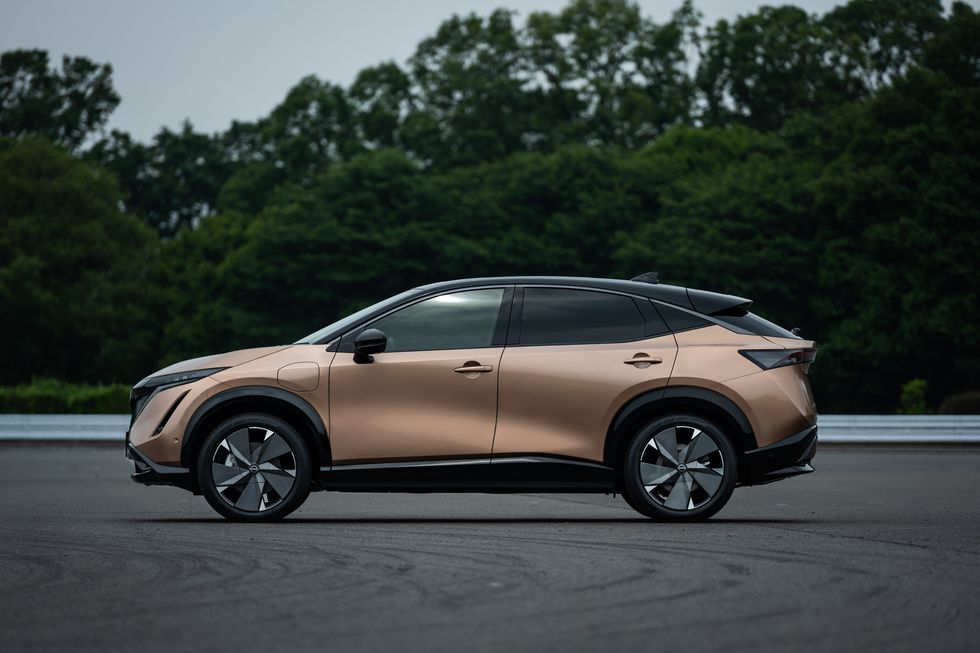 Discover the Impressive Performance of the New Nissan Ariya
One of the early knocks on electric and hybrid vehicles were sluggish and not a lot of fun to drive. Des Plaines, IL drivers who are interested in these types of cars don't have to worry about that kind of thing now. The 2023 Nissan Ariya promises to be quite dynamic for those who choose to get behind the wheel. Upon its release, the Ariya plans to give Schaumburg, IL drivers the choice of two different batteries and two different drivetrains. The two batteries will be a 63-kWh and an 87-kWh version. Drivers will not have to worry about not getting the kind of driving experience they want out of a crossover SUV.
When you are making your choices on the driving experience you want out of your Nissan Ariya, your vehicle will have the capability of horsepower ranging from 215 to 389, depending on the battery and drivetrain you choose. The torque capabilities for this Nissan SUV range from 221 to 443 pound-feet of torque. Either way you choose, you will have an SUV with the power to get you where you are going quickly.
In addition, the 2023 Ariya comes available with e-4ORCE all-wheel drive. Now, Schaumburg, IL winters won't seem so daunting when you are behind the wheel of this Nissan SUV. Front-wheel drive will be standard for drivers who prefer that kind of driving experience.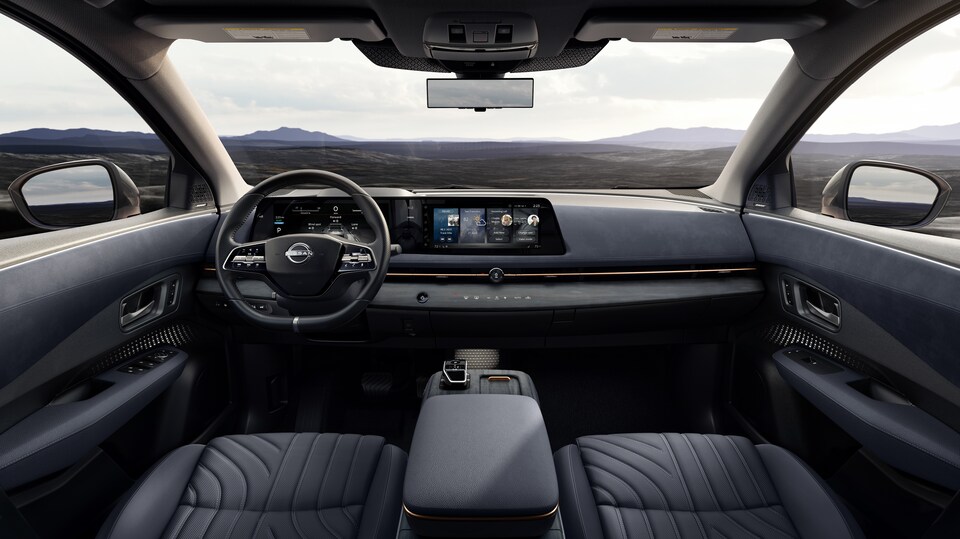 Technology
Some drivers may enjoy the fact that the Nissan Ariya will come with some of the most cutting-edge technology on the market. For example, the Ariya will come available with the Nissan ProPILOT Assist 2.0. This will allow drivers to enjoy an autonomous driving experience. Many people may find this helpful on very long car rides or in heavy traffic. Essentially, you won't have to worry about driving while you are tired ever again. To further the futuristic driving experience, the 2023 Ariya will come available with the Nissan ProPILOT Park feature. This button will allow the vehicle to park itself.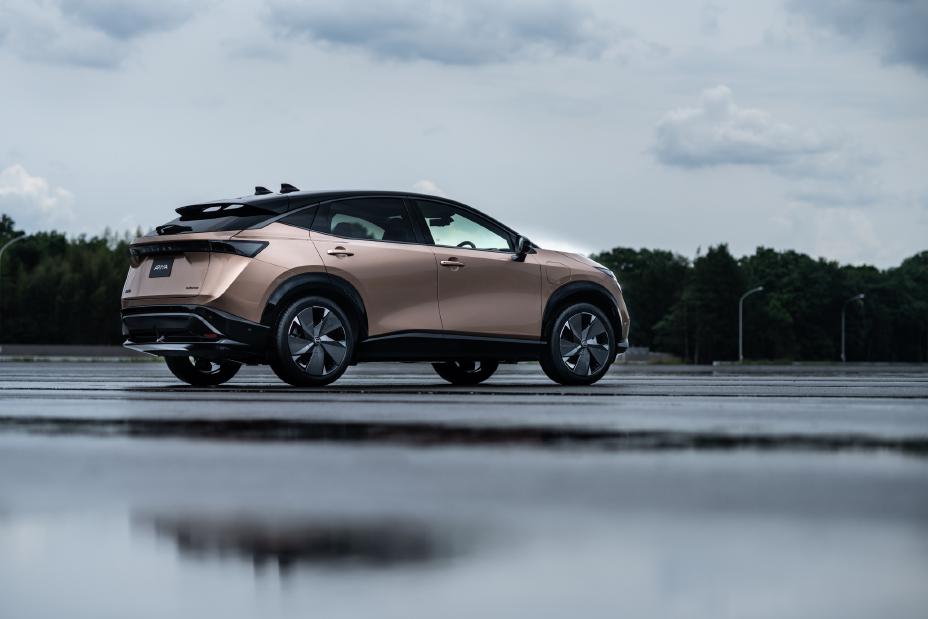 Safety
Like many Nissan vehicles, the 2023 Nissan Ariya is sure to come with the Nissan Safety Shield® 360 suite of safety features. Nissan drivers will always be able to have the peace of mind knowing that the company is looking out for them while they are on the road. Those who have never owned or leased a Nissan vehicle may not know that the Nissan Safety Shield® 360 suite includes:
Rear Cross-Traffic Alert
Lane Departure Warning
High Beam Assist
Automatic Emergency Braking with Pedestrian Detection
Blind Spot Warning
Rear-Automatic Braking
While it is still too early to tell what the Nissan Safety Shield® will look like in the new Nissan Ariya EV, it can be assumed that Nissan will not disappoint when it comes to the realm of safety.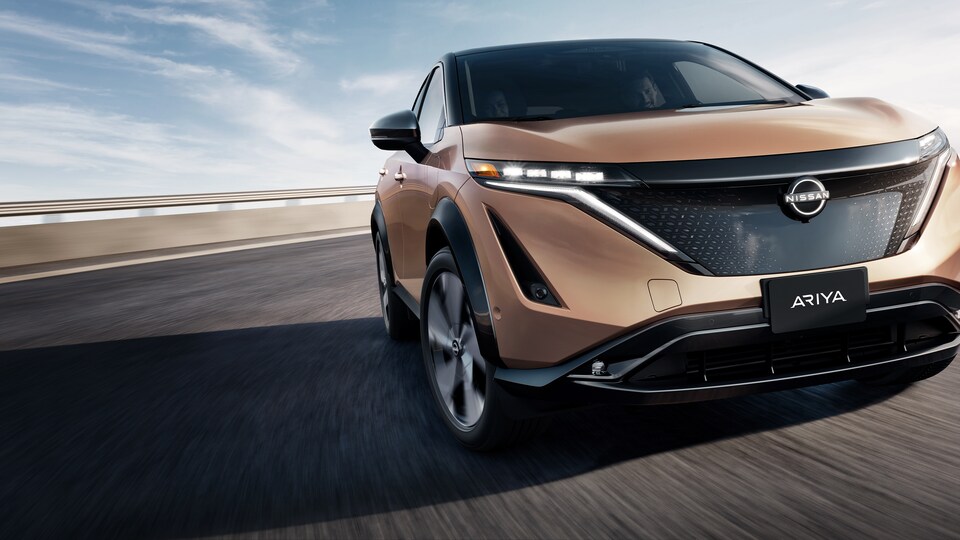 Be the First to Know
The new 2023 Nissan Ariya is already starting quite the buzz. The reservation process for the new Ariya has begun, so if you're interested in being one of the first greater Chicagoland drivers in this anticipate new EV, we encourage you to contact our sales team to begin your reservation. Our sales team can help answer any questions you may have about this new EV, and can also let you know what else Nissan has to offer in the realm of electric/hybrid vehicles. Contact our Arlington Heights Nissan dealership today.