The Bob Rohrman Auto Group

A Message from our Owner:
Over 30 years and 30 dealerships ago, I started the Bob Rohrman Auto Group based on the single proposition that the customer is the most important person at the dealership. I realized long before research companies created customer satisfaction surveys that the only way to keep a business thriving was to treat your customers well.

When it comes to total customer satisfaction, the two main building blocks are quality products and quality people. This means before, during, and after purchasing your quality new or used car, truck or van, you will receive the highest quality customer service from our associates.

The final point for great customer satisfaction is helping your customers get the best deal possible. We pledge to work with you to help secure the best price and have a great car buying experience!

Thank you for visiting our site, we hope we have the opportunity to serve you soon.
Sincerely,
Robert Rohrman
Owner
A little history...

Founded in 1963 with a single used car lot by Robert V. Rohrman, The Bob Rohrman Automobile Group has grown today to represent over 16 manufacture name brands of vehicles, with 30+ dealerships in the Chicago Illinois area as well as, Lafayette, Ft Wayne and Indianapolis Indiana. The family owned auto group has grown to over 1400 employees, selling over 39,000 vehicles annually.
Robert V. Rohrman, President and Owner of the Bob Rohrman Auto Group, started his career in the automotive retail industry after a term in the Army by working as a used car Sales Associate on Glenn Pittman's used car lot in Lafayette, In. He had a tremendous amount of success at the Pittman lot and eventually moved up to Sales Manager. In 1963 when he realized there were no further growth opportunities at Pittman's, he decided to open his own used car lot in Lafayette, IN. In 1969, Toyota, a newcomer to the American market came to Mr. Rohrman with a franchise opportunity. Rohrman and Toyota have since had very long and mutually prosperous history.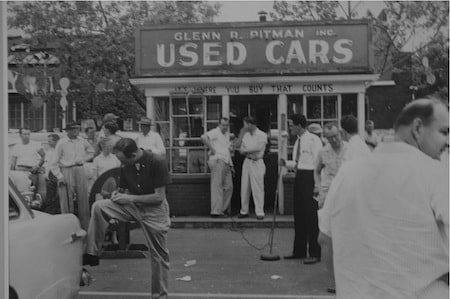 Our owner, Bob Rohrman, on the standup microphone.


Over the lifetime of the company, an estimated 900,000 vehicles have been sold. This type of volume is what has established the Rohrman Auto Group as the 18th largest auto dealer group in the Nation according to the Automotive News, an industry trade publication.

The Bob Rohrman Auto Group prides itself on being a family owned dealer group that aims for customer satisfaction every day. Pay us a visit at Arlington Nissan today!